School Governors
The Governing body of Our Lady & St Werburgh's aims to support the Catholic ethos of the school and wider community in providing a safe, caring and stimulating learning environment where every child can realise his or her full potential.

We will achieve this through both an active involvement in the daily life of the school where appropriate and by working closely with the Schools Senior Leadership Team
To set challenging aims and objectives with the school and support the school in achieving them.

To agree policies, priorities and performance targets in order to accomplish these objectives.

To look for evidence that these objectives are being achieved and challenge where appropriate.

To ensure the Catholic character of the school is preserved and developed.
The Governing body will always act in the best interests of the school and its pupils. We will be prepared to explain clearly our decisions in an open and transparent way to staff, parents, pupils and others in the wider community. We will be united in a common vision for the school shared by the Head Teacher in promoting the highest possible academic standards.

The Governors will act as a cooperate body, with integrity, objectivity and honesty.
If you would like to contact the Governing Body please email: governors.olsw@cttkcc.co.uk
Governor Mark
Our school's Governing Body has retained its Governor Mark status. The Mark is a quality standard for school governing bodies in England. We went through a rigorous and very worthwhile evaluation process, set against a detailed framework. It culminated in a visit from, and interviews with, an assessor.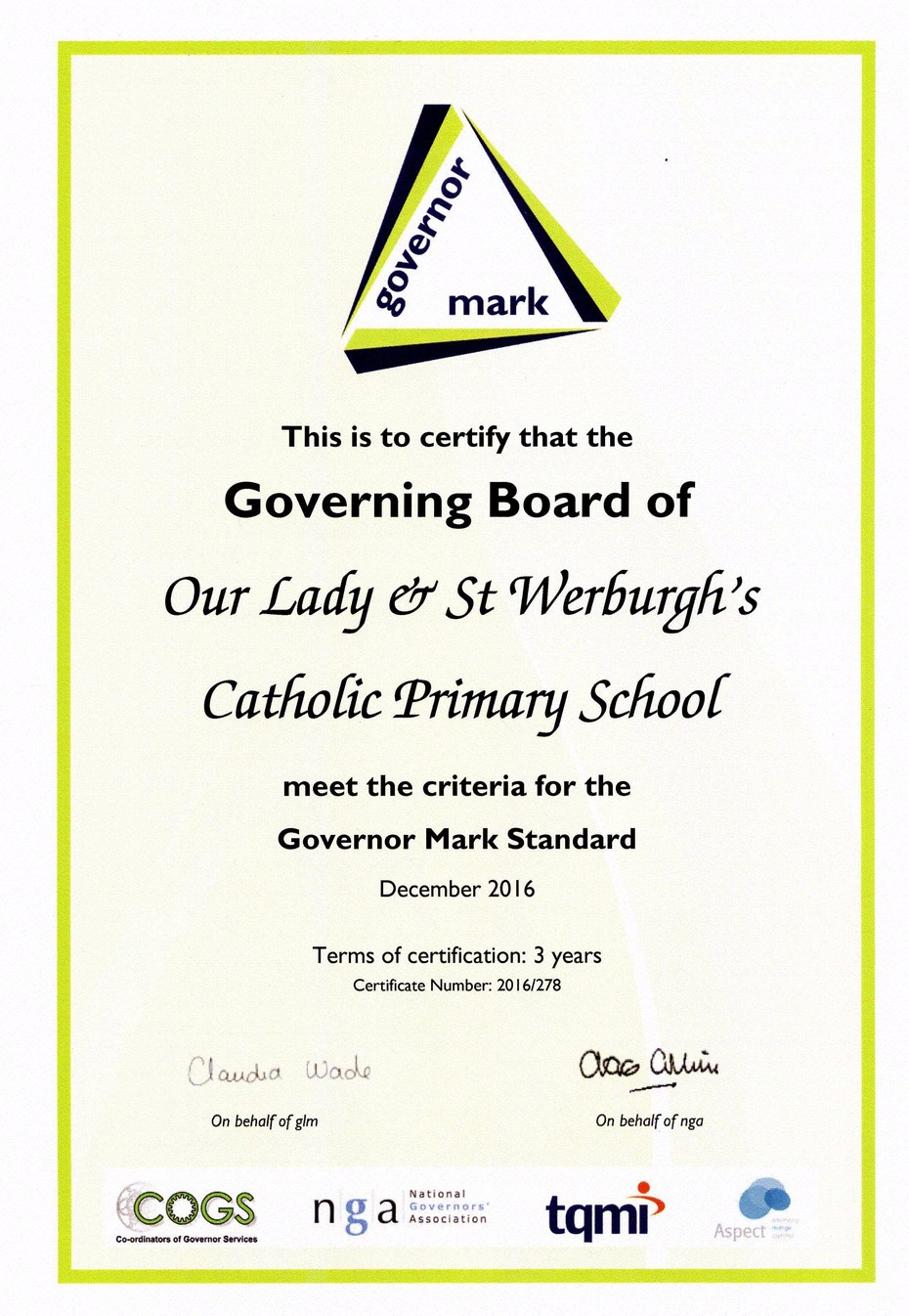 What do governors do?
School governors provide strategic leadership and accountability in schools. Governors appoint the head teacher and deputy headteacher.
It is governors who hold the main responsibility for finance in schools, and it is governors who work with the headteacher to make decisions about balancing resources.
Each individual governor is a member of a governing board, which is established in law as a corporate body. Individual governors may not act independently of the rest of the governing board; decisions are the joint responsibility of the governing body.
The role of governors is a strategic one, their key functions are to:
set the aims and objectives for the school

set the policies for achieving those aims and objectives

set the targets for achieving those aims and objectives

monitor and evaluate the progress the school is making towards achievement of its aims and objectives

be a source of challenge and support to the Headteacher (a critical friend)
If you would like to know more, please click on the link below to read a short, but very informative article
Code of practice for LGBs 2021
OLSW Governors_Code_of_Conduct (CES Model for LGB Members)
To find more information about the Governors in school, please follow the links at the top of the page or use one of the links below: