Lest We Forget: Service & Sacrifice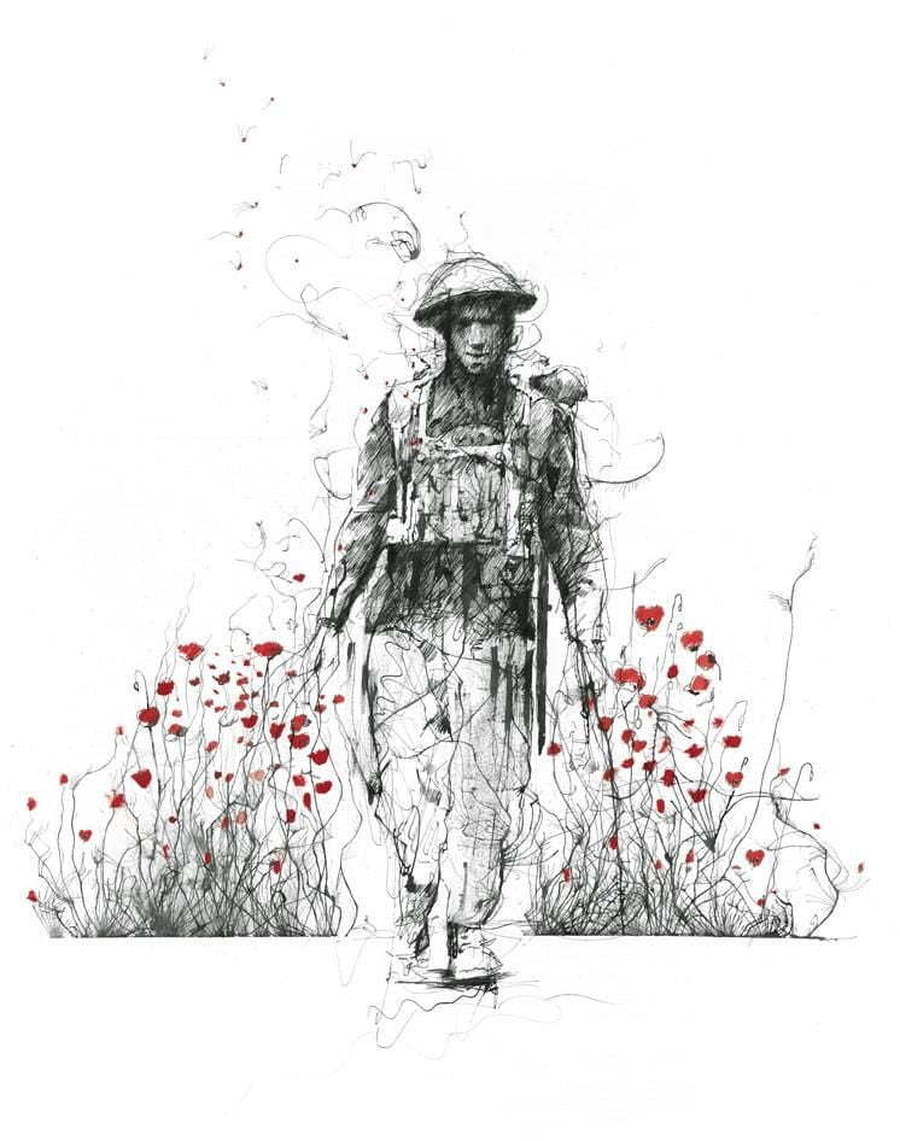 "At the going down of the sun and in the morning, we will remember them."
Poem extract: 'For the Fallen' by Robert Laurence Binyon
Artwork: 'Lest We Forget' by Scott Tetlow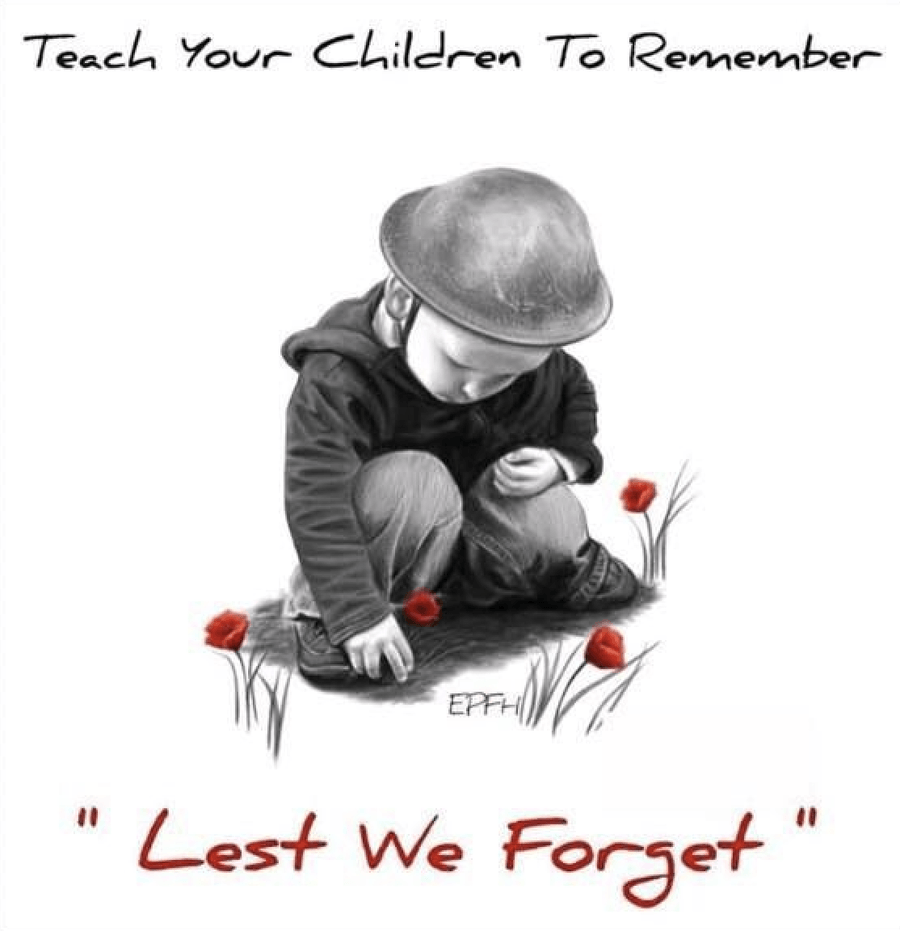 Remembrance serves a number of important purposes:
As thanks ~ It is a chance for individuals, communities and the nation to honour those who serve and sacrifice to defend our way of life and who gave their today for our tomorrow.
To bring communities together ~ Communities across Britain, irrespective of religion, race or ethnicity, share a history of service and sacrifice from the two World Wars through to the present day. Remembrance is a time to reflect on what we have in common.
To understand who we are ~ To understand modern Britain is to understand that it was built upon the service and sacrifice of millions of men and women from Britain and the Commonwealth during the two World Wars and in the rebuilding of the nation after them.
To learn ~ As we remember the service and sacrifice of so many, who came from every walk of life and from every background, whether they served 100 years ago or today, the act of remembering reminds us that we must all continue to strive for a better and more peaceful future.
Courtesy of the Royal British Legion
British Values in Action
How will we teach our children to remember?
At Our Lady & St. Werburgh's Catholic Primary School, we will commemorate and explore Remembrance Day through the following history enquiries:
EYFS ~ Why are people wearing poppies this week?
Year 1 ~ Who do we remember on Remembrance Day?
Year 2 ~ Why is it important to remember?
Year 3 ~ What is the key message of Remembrance reflected in the white poppy?
Year 4 ~ Who does the purple poppy remember and why?
Year 5 ~ Who does the black poppy remember and why?
Year 6 ~ Who else is it important to remember and why?
Each of the above enquiries will develop our children's substantive knowledge (what the children should know), build upon second order concepts (what the children should understand), and address both key concepts and key skills in history.
Cultural Capital ~ Our history enquiries will be enriched through and complemented by whole school and class liturgies, 'rich' texts, and a range of visitors to school, as well as visits away, including the National Memorial Arboretum and the beginnings of our very own Peace Garden.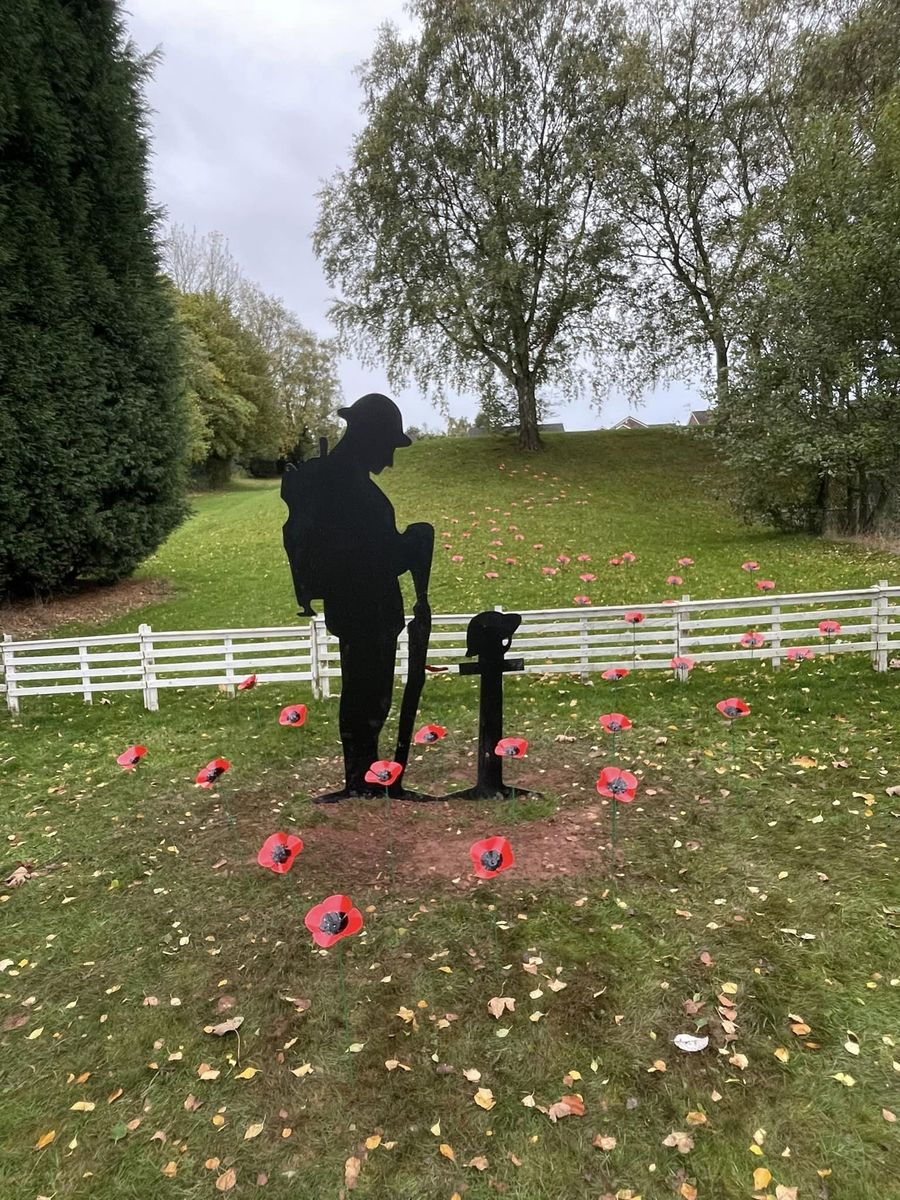 Our Peace Garden ~ A beginning . . .
In Flanders Fields
In Flanders' fields the poppies blow
Between the crosses, row on row,
That mark our place: and in the sky
The larks, still bravely singing, fly
Scarce heard amid the guns below.
We are the dead. Short days ago
We lived, felt dawn, saw sunset glow,
Loved and were loved, and now we lie
In Flanders' fields.
Take up our quarrel with the foe;
To you from failing hands we throw
The torch; be yours to hold it high,
If ye break faith with us who die
We shall not sleep, though poppies grow
In Flanders' Fields.
by John McCrae
Who will we consider to be inspirational?
Our history enquiries will draw upon inspirational people (and animals) from local, national and international history:
In their own words . . .
John Harold Rhodes (VC)
"Out of the 1,300 men who came out with this battalion, only 120 of us are left, and only 60 of us have been in the firing line all the way through.
"Our battalion casualties amount to 1,200, but, of course, we have large drafts of men coming out to us all the time. We lost a few hundred at the Aisne, one shell alone counted for about 60 killed and wounded.
"But Ypres was the place where we lost the most, and also it was there that this battalion did some of their best work since the war began.
"We had a terrible time of it as they had a large number of guns against us, and they shelled us every day.
"But for all our losses, we gave them more than they gave us."
Edith Cavell
"Someday, somehow, I am going to do something useful, something for people. They are, most of them, so helpless, so hurt and so unhappy."
"I can't stop while there are lives to be saved."
Vera Brittain
"Modern war and modern civilisation are utterly incompatible . . . one or the other must go."
Warrior (War Horse) ~ General Jack Seely
Walter Tull
Lilian Bader
"Father served in the First World War, his three children served in the Second World War. I married a coloured man who was in the Second World War, as was his brother who was decorated for bravery in Burma. Their father also served in the First World War. Our son was a helicopter pilot, he served in Northern Ireland. So all in all, I think we've given back more to this country than we've received."
Dr. Barnett Stross
"The miner's lamp dispels the shadows on the coal face. It can also send a ray of light across the sea to those who struggle in darkness."
How will learning about Remembrance develop our children?
Inspire: Our children will be inspired by the greatness of others who have made a difference to the world through their service and sacrifice.
Articulate: Our children will be equipped with the oracy skills to enable them to articulate and express, confidently and eloquently, the service and sacrifice of others who gave their tomorrows for our today.
Advocate: Our children will become advocates of our Catholic faith and of social justice, learning to live as Jesus taught us through His own service and sacrifice.
Reflect: Our children will reflect on their learning, enabling them to consider the consequences of their own actions and the impact upon others, ensuring they make the most of each opportunity presented to them.
Dignity: As a Catholic child, they will value the dignity of every human person knowing that they are uniquely made in the image and likeness of God, and that this is at the heart of all we serve to achieve.
"At the going down of the sun and in the morning, we will remember them."