Parish Church - Our Lady & St Werburgh's Catholic Church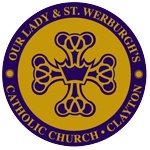 We are extremely fortunate to be located next door to the parish Church of Our Lady & St Werburgh's. Being in such close proximity means that the Catholic education of the children is enhanced through weekly mass attendance and in the close relationship the school has wish the parish.
The parish church has it's own website that is full of useful information. Please click on the link below to go see the parish website.
http://www.ourladyandstwerburgh.co.uk/index.html