School Closure January 2021
Dear parents
Following this evenings government announcement, we have been instructed by the Department for Education to close the school from 9.00am on Tuesday 5th January as part of a series of national measures to contain the spread of Coronavirus. The school will remain open for the children of key workers, vulnerable children and children who attend the Nursery.
We appreciate that this is going to cause significant disruption to many families, but understand that it is going to be necessary to comply fully with all requirements.
Remote Learning
We have planned for such a situation and wish to maintain some continuity in the education of the children through our remote learning platform Seesaw. All children have been allocated a Seesaw login, which we will redistribute again over the course of tomorrow. More information can be found on the link below
https://ourladyandstwer.sites.schooljotter2.com/home/reopening-information/homelearning
All members of staff will be in school throughout the lockdown to support your children's remote learning and can easily be contacted through email or be phoning the school to provide you with support.
Key Workers / Vulnerable children / Nursery children
In a similar way to the March lockdown, the school will remain open to children of keyworkers, vulnerable children and also children who attend the Nursery.
If you applied for the keyworker/vulnerable provision during the last lock down and your circumstances haven't changed, we have your details on record there is no need to make a new request.
If you are a new keyworker and require a place for your child, please register with the school office at admin.olsw@ctkcc.co.uk immediately and bring your child to school tomorrow morning.
A list of key workers can be found at the following link
https://www.gov.uk/government/publications/coronavirus-covid-19-maintaining-educational-provision/guidance-for-schools-colleges-and-local-authorities-on-maintaining-educational-provision
Start/End of day routines for Key worker/vulnerable children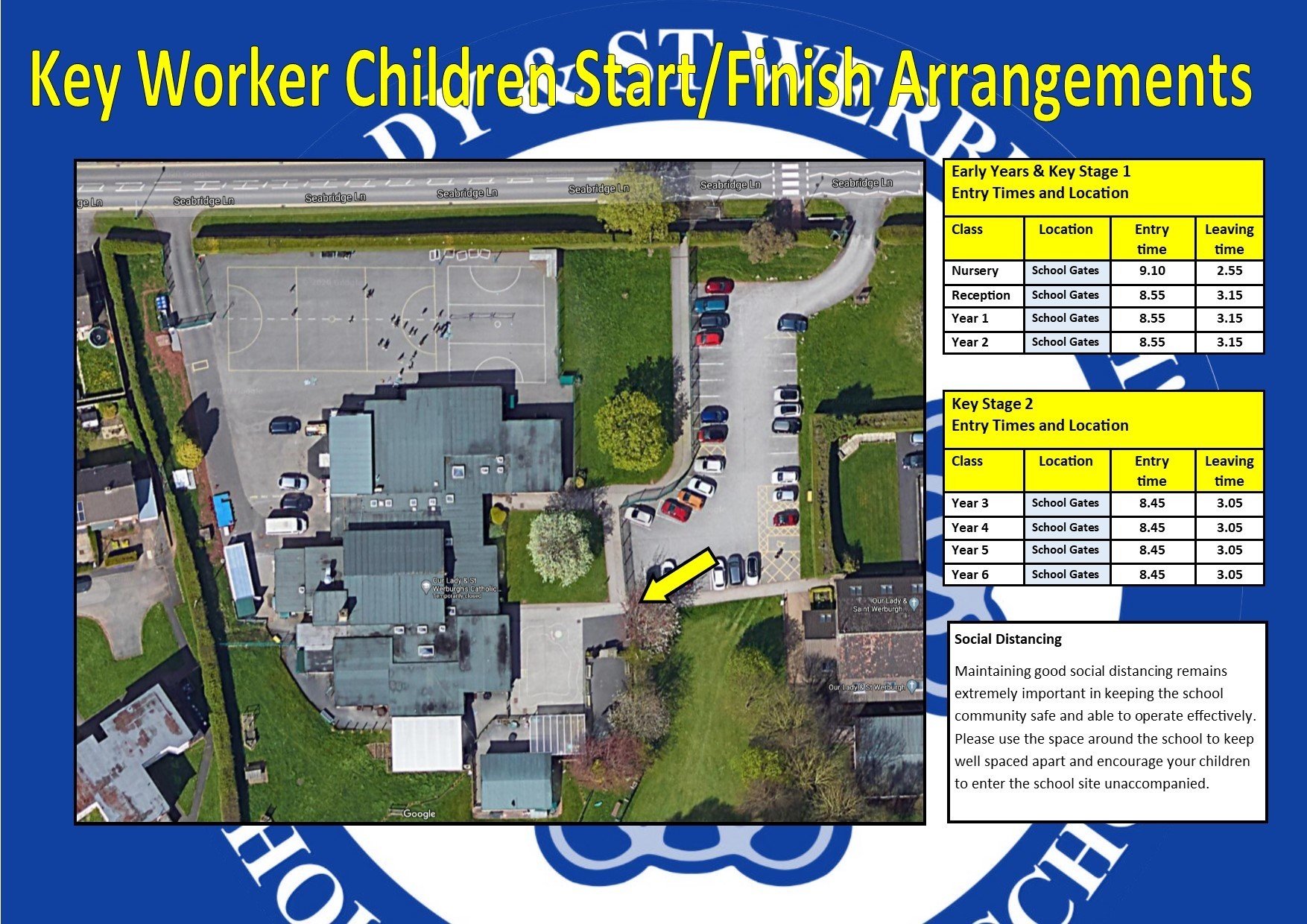 Uniform
Please can all children coming to school wear their school uniform. If children are required to wear their PE kit on any day, this will be communicated to you by your child's teacher.
School Dinners
For any children attending the school a meal will be provided free of charge or you are welcome to provide a packed lunch from home. You may also wish to provide a breaktime snack for your child as we will not be able to provide toast at present.
Contact Details
The school will continue to contact you through the parent mail account as well as through the school's website. If you need to update any contact details, please send them to:
We are aware that there will be further announcements that may impact the school's operation and we will share this information as soon as we have it.
Thank you for your understanding and support and I look forward to seeing everyone back at school safe and well as soon as we can.
Mr B Grove