Remote Learning
Our commitment to ensuring pupils are educated in school and at home
during the Coronavirus Pandemic 2020-21
During these uncertain times, as a school we believe it's important to provide every child with consistency when it comes to their education.
If your child is off school due to illness, we will presume that they are unable to complete work from home. When they make a full recovery, they will return to school and resume their learning as usual.
There may be times when your child is off school due to Coronavirus and they're actually fit and well. An example of this would be a family member in the household is awaiting COVID test results and the household is isolating. In these circumstances, the school would expect your child to continue with their education. In order to provide every child with this opportunity, we are directing parents/carers to the National Oak Academy website recommended by the Department for Education.
What is Oak National Academy?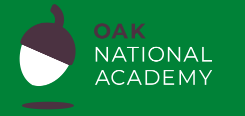 Oak National Academy is an online resource which features over 10,000 online lessons. These lessons are planned by qualified teachers. The lessons are interactive with many featuring videos to introduce new content, online quizzes, worksheets and guidance for parents/carers. The work can be completed either online or by writing down into a notebook or on paper. To access this resource, simply click on the link below which will take you to the Oak National Academy website. You will be asked to select your child's year group and will then be provided with a schedule for learning for that day. You can also search by subject to access more curriculum content. All content is taught in line with the national curriculum and should be pitched at the correct level for your child. We recommend you follow scheduled lessons as they fall in line with our school curriculum plan and will complement/revise what we are learning in school.
If there are other activities teachers wish to set for children to ensure they are at a certain point with their learning, they will post them as activities on Seesaw (see below).
If you require any support accessing these resources, then please don't hesitate to get in touch with us.
Daily Reading
It is important that your child also continues with their daily reading.
In Key Stage 1 this means continuing to use Bug Club at home. Teachers will allocate books for reading that are matched to children's level and changed according to their progress.
In Key Stage 2 children are familiar with Accelerated reader. Books that you have at home can looked up using the search tool when children login and they can complete the corresponding reading, vocabulary and grammar quizzes. There are also many free book available for children on the Audible website/app which children can listen to and then be quizzed on in accelerated reader.
Accelerated reader also has an articles section which enables to children to read non-fiction articles at their own reading level and takes quizzes on these too. Teachers are monitoring children's targets in school and will use these to assess their progress.
Click here to find out more about Accelerated Reader.

Click on the logo to go to the Seesaw Learning Journal login page.
Feedback from your Teacher
If your child requires feedback from the work they have completed, they can upload their work onto their SeeSaw journal. This is a platform children are currently being introduced to in school and we shortly be bringing home a code that enables them secure access to the site.
This code will be a QR code which will allow you to setup their individual online journal. For further information about this, please scroll further down this page.
To download the SeeSaw app, please search for 'SeeSaw' in the apple or android store. SeeSaw can also be used on a laptop or PC.
Again, if you need support with this then please don't hesitate to contact school.
Uploading work for feedback
Once you have completed an activity from the National Oak Academy, you may be able to provide your child with some feedback about how they have performed. The feedback may also come from the activity itself if your child has undertaken an interactive quiz. However, if you feel like your child requires feedback from their class teacher then please follow the following instructions:
1. Login to your child's SeeSaw account.
2. Click on the 'add' icon and take a picture of the work you require feedback for.
3. Click upload.
4. The class teacher will then be alerted to the new post added onto the SeeSaw journal. They will aim to respond as quickly as possible. If they are teaching full time, this may take a couple of days.
Remote Learning Guide
Remote Learning Guide 2021.pdf