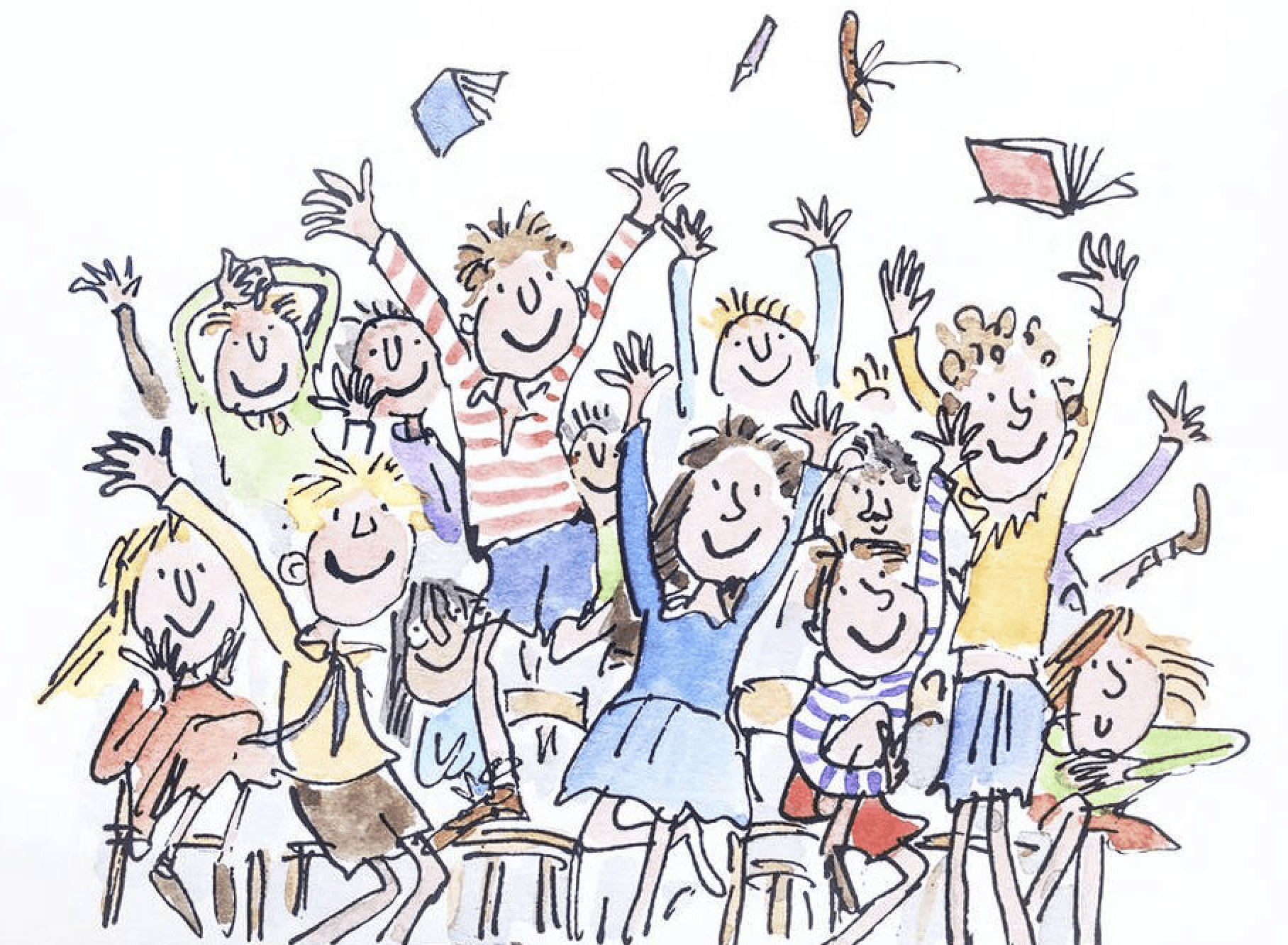 'Let's get together and feel all right . . .'
(Metaphorically Speaking)
One Love ~ Bob Marley
There are so many things I'm missing about Year 4, especially those that make and have made Year 4 unique:
Roald Dahl ~ Purple & Green ~ Golden Tickets ~ Tombola Turning & Half-termly Treats
Extreme Reading ~ Postcard Deliveries
'Revolting' Sandwiches
Team Building ~ Team Challenges ~ Blindfold Trailing ~ Bridge Building ~ Swamp Dipping ~ Crystal Mazing & Indoor Wall Climbing
Soldier Marching ~ Wall Defending ~ Testudo Forming ~ Gladiator Fighting ~ Ancient Chester Cellar Descending & Gift Shop Spending
London Road Synagogue ~ Clayton Road 'Mountaineering'
Poppy Selling ~ Chocolate Hamper Donating & Raffle Ticket Selling
Goodie Filled Hand Stitched Christmas Stockings
Dining in Style with Homemade Christmas Hats
Keeping Secrets for Secret Santa
Pyjama Party Picnicking ~ Giggling & Gossiping
Black Eyed Peas Rapping ~ The Beatles and Judds Harmonising ~ George Ezra & Bob Marley Dancing
Vegetable Peeling, Slicing, Dicing & Chopping ~ Dumpling Rolling & Lobby Making
AND MOST OF ALL ~ ALL OF YOU
And Your:
* Monday Morning Greetings *
Weekend News
Energy & Enthusiasm
Good Humour & Sense of Fun
Love of Learning & Love of 'Stuff'
Passion for Reading
Working Chatter
Mistake Making
Sharing & Caring
Delegating & Diplomacy
Enduring Patience with Laptop Crashing & Updating
Singing in Mass
"Miss Walley . . ."
"Miss Atkins . . ."
"I don't have a pencil . . . ruler . . . rubber . . ."
"I can't find . . ."
Corridor Lingering & Loitering
Playground Laughter
Celts Versus Romans
"I don't have my PE shorts . . ."
"I can't find my tie . . ."
"Please Miss, can I go to the toilet?"
Book Piles
Table Clutter
Abandoned Jumpers & Discarded Cardigans
Floor Litter
Locker Door Clanging
* Friday Afternoon Goodbyes *
"Happy birthday to you, happy birthday to you, happy birthday dear Chloe, happy birthday to you."
Many Happy Returns of the Day
Saturday 23rd May
xXx With love & best wishes, Miss Walley, Miss Atkins & Year 4 xXx
"Hip-pip ~ Hooray Hip-pip ~ Hooray Hip-pip ~ Hooray Hip-pip ~ Hooray Hip-pip ~ Hooray
Hip-pip ~ Hooray Hip-pip ~ Hooray Hip-pip ~ Hooray Hip-pip ~ Hooray"
* GuestBook ~ Chiddlers & Chatbags *
Please stay in touch by adding comments to our class GuestBook (see below) ~ Miss Atkins and I would love to hear your latest news and stories etc.
Many apologies to all those who left comments previously ~ I didn't know how to move the GuestBook to a different page without losing what was already written. I tried to copy and paste, but that didn't work either, so here we go again . . .
* Letters from Me to You *
Sunday 3rd May 2020
Dear Miss Atkins and all Year 4 Chiddlers,
I hope that you've had an enjoyable week: staying safe, taking care, being kind and working hard. A big, big thank you to all of you who've e-mailed with news and examples of what you've been doing ~ it really is great to see and read, so, please stay in touch and share your endeavours.
The theme of last week's letter was looking for magic and sharing your own magic. Not only did I find magic in your writing, I also found magic in your reading ~ I was utterly, totally and truly delighted and amazed with your progress since the previous week and, especially, since the start of Year 4. I find it truly inspiring and incredible that 29 children (aged only 8 and 9 years) have read over 21 million words in 8 months ~ last week alone, you read over 3/4 of a million words. If you achieve a staggering 1,000,000+ words in one week, we'll discuss and agree some suitable rewards when we return to school.
Prior to writing this letter, I went outside to complete the most mundane of tasks ~ putting out the recyclables ~ and there, in the most unlikely of places, I happened upon some wonderful springtime magic. Waiting to do their 'bit' for the environment, the three bins stood to attention in their uniform line revealing magic on my approach ~ the bin to the far right had become home to an abundance of spiderlings (freshly 'hatched' from their egg sacs, while the middle bin provided a playground to dozens of spiderlings shining golden yellow in the early afternoon sun. Delicately, I lifted and replaced the bin lid, so as not to disturb the spiderlings spinning busily and scurrying along their gossamer draglines, ready and waiting to 'balloon' away.
The first photograph shows the spiderlings grouped together on the bin to the far right, with the second photograph showing the spiderlings several hours later. Many had already dispersed in the wind, earlier in the day, when I first went out to the blue bin.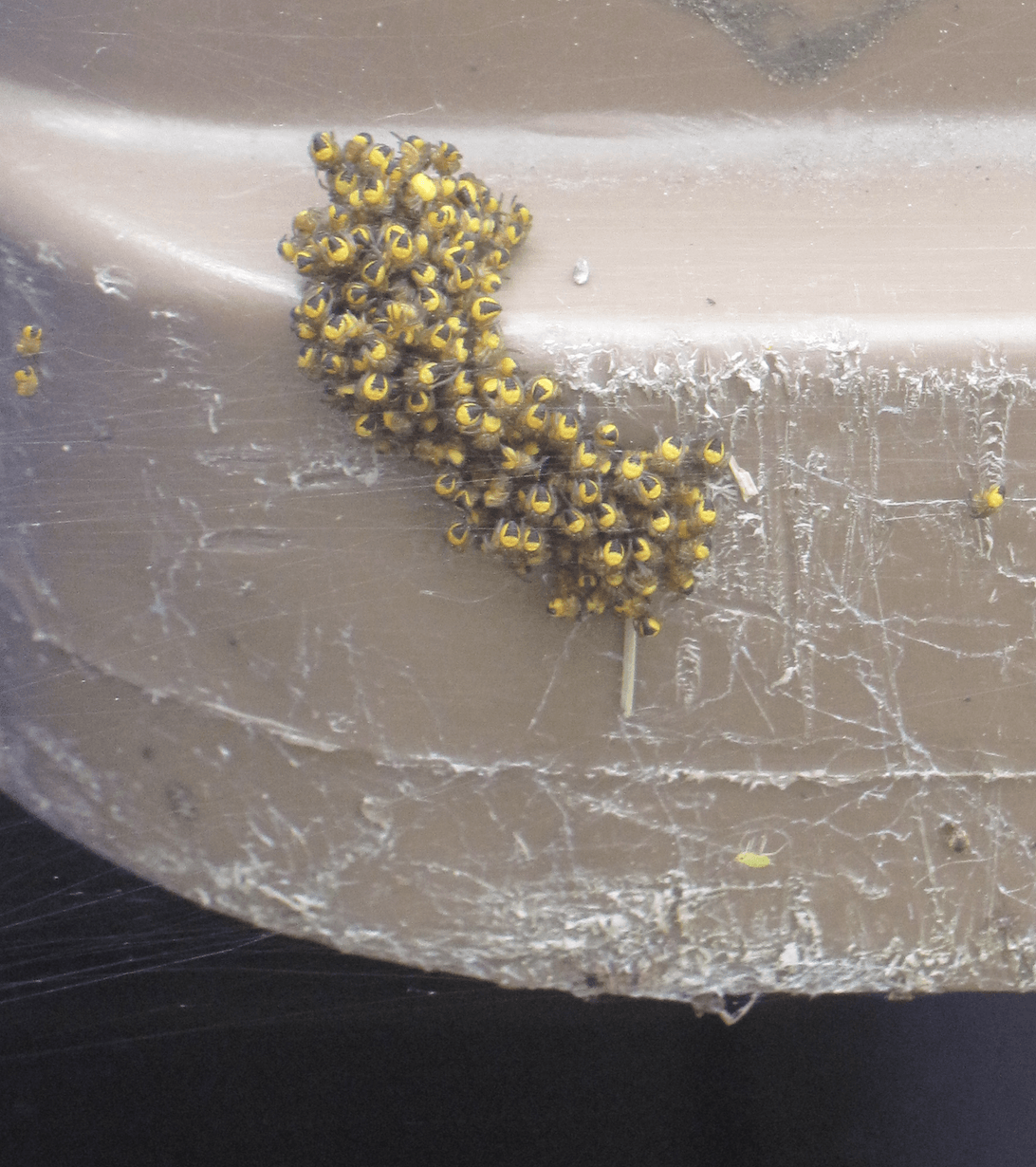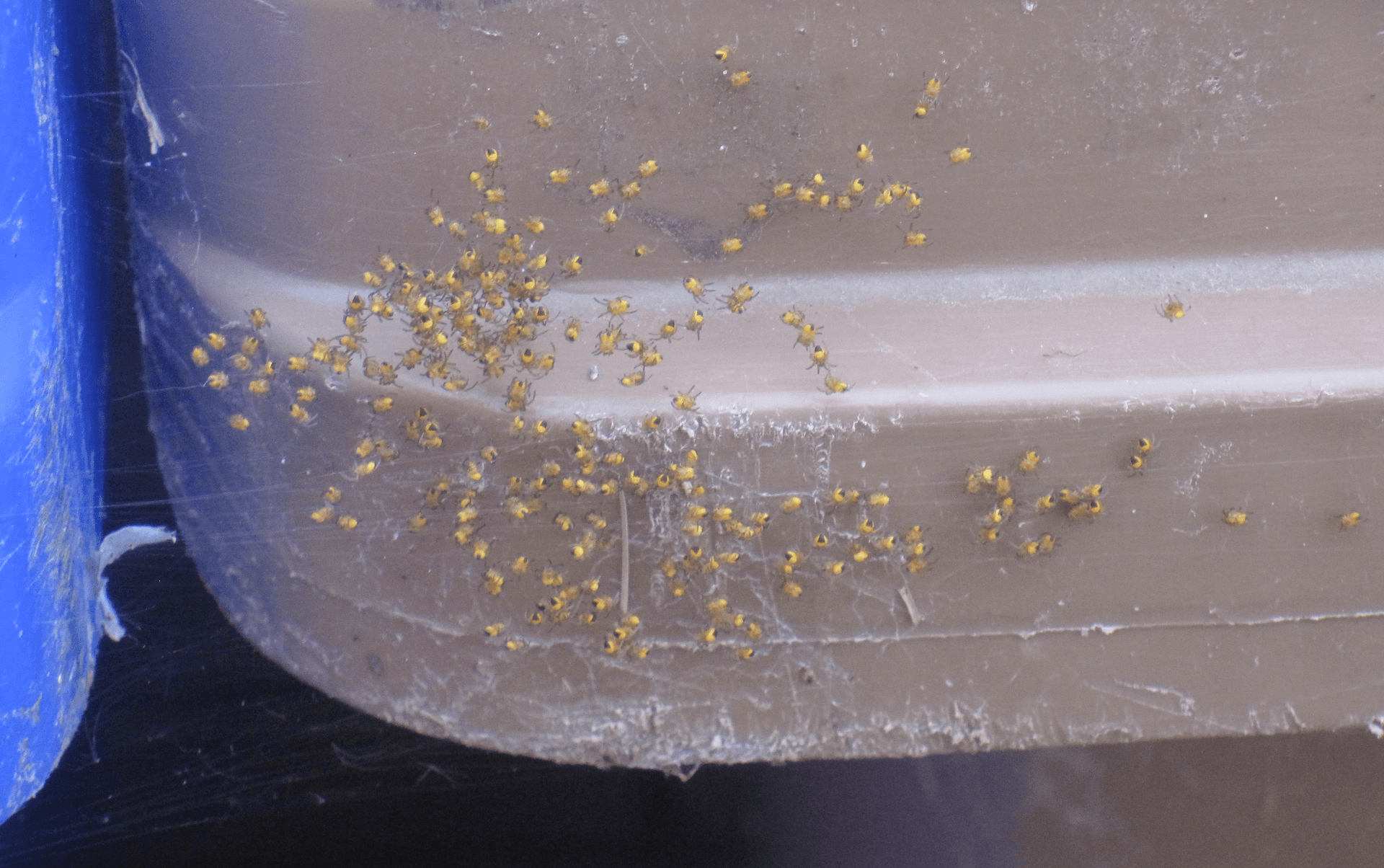 Incredibly, although they have no wings, spiderlings can fly as high as the highest-flying insects and birds. Their 'balloons' can carry them over 2.5 miles skywards and over 1,000 miles seawards.
Find below an extract from E.B. White's: Charlotte's Web that details this beautifully:
'For several days and several nights they crawled here and there, up and down, around and about, waving at Wilbur, trailing tiny draglines behind them, and exploring their home. There were dozens and dozens of them. Wilbur couldn't count them, but he knew that he had a great many new friends. They grew quite rapidly. Soon each was as big as a BB shot. They made tiny webs near the sac.
Then came a quiet morning when Mr. Zuckerman opened a door on the north side. A warm draft of rising air blew softly through the barn cellar. The air smelled of the damp earth, of the spruce woods, of the sweet springtime. The baby spiders felt the warm updraft. One spider climbed to the top of the fence. Then it did something that came as a great surprise to Wilbur. The spider stood on its head, pointed its spinnerets in the air, and let loose a cloud of fine silk. The silk formed a balloon. As Wilbur watched, the spider let go of the fence and rose into the air.
"Good-bye!" it said, as it sailed through the doorway.'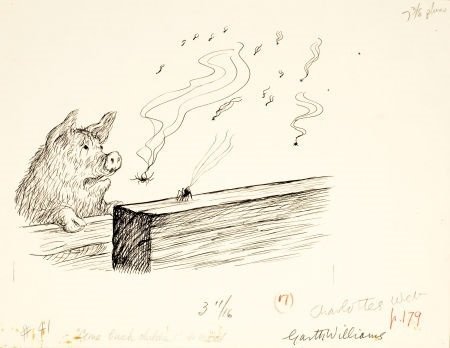 The above extract is a perfect example of how a great story, beautifully written, can teach great science, and so much more besides. If you feel inspired to read more of this great children's classic, and find out why Wilbur looks heartbroken, please click here to read your free copy ~ with a Book Level of 4.4, it is worth 5 Book Points. I'll award 2 Golden Tickets to anyone who reads it and completes a quiz.
I started today with the intention of writing something completely different, but a trip to the bin has altered the course of what was going to be. It really does go to show that magic can be found in the most unlikely of places. Perhaps, I will save what I intended for next week.
During this forthcoming week, continue to look for magic, and to spread your own magic in whatever you do, and with whoever you do it. Know that I am thinking of you, know that I am missing you, and know that I look forward to the day we can be together again.
From me, say a big 'hello' to your family and share my hopes that they're all well.
Stay Safe ~ Take Care ~ Be Kind
With love and best wishes,
Miss Walley xxx
* Letters Archive *
Tuesday 28th April 2020
Dear Miss Atkins and Year 4,
'Above all, watch with glittering eyes the whole world around you because the greatest secrets are always hidden in the most unlikely places. Those who don't believe in magic will never find it.' ~ Roald Dahl
Monday of last week heralded the beginning of the Summer Term, a beginning that was and is most unusual and extraordinary in that we're not together within our classroom, and not together with everyone else within our school, but, it's also a beginning made all the more extraordinary by recent events: out of respect, Queen Elizabeth II celebrated her 94th birthday without fanfare by forgoing the usual gun salutes, and the celebratory peal of bells at Westminster Abbey; Prince Louis turned two and delighted with his rainbow painted hands and smudged cheeks in support of the NHS; the 50th Earth Day 'flooded the world with hope, optimism and action'; the feast day of Saint George, the patron saint of England, and William Shakespeare's birthday passed without 'much ado'; Captain Tom Moore broke two Guinness World Records (the most money raised by an individual charity walk, and the oldest person to reach number one in the UK charts, superseding Sir Tom Jones); the 2.6 Challenge was established to raise funds for charity due to the postponement of the 40th London Marathon, along with other charity events (What might you do?); the Lyrids meteor shower lit up the night skies, and like a 'string of bright pearls', the Starlink satellites passed over creating their own light spectacular; the Hubble Space Telescope celebrated 30 years of discovery from 'our own cosmic backyard to the far reaches of the universe'; Muslims welcomed the start of Ramadan, and Sikhs, adapting to changes in their celebrations of Vaisakhi, provided support and food to those in need; President Trump entertained with his supposed 'sarcasm'; and the question arose as to the fate of Kim Jong-un.
Lately, nature has been providing further wonderful opportunities for discovering a little magic. Towards the beginning of the month, the first full moon of spring was a spectacular supermoon, a pink supermoon. Why do you think this is? Adding to the 'spectacular' was the ring around the moon. Additionally, as we've retreated into our homes, wildlife is venturing further from theirs exploring the spaces we occupied only a short while ago. Did you see the reports about the herd of Kashmiri goats who tripped-trapped down from Llandudno's Great Orme Country Park? They were reported to have eaten a few hedges, trespassed in gardens, and crossed the road without looking, and all of this without respecting the required two metres distance! Kids certainly live up to their reputation for being naughty!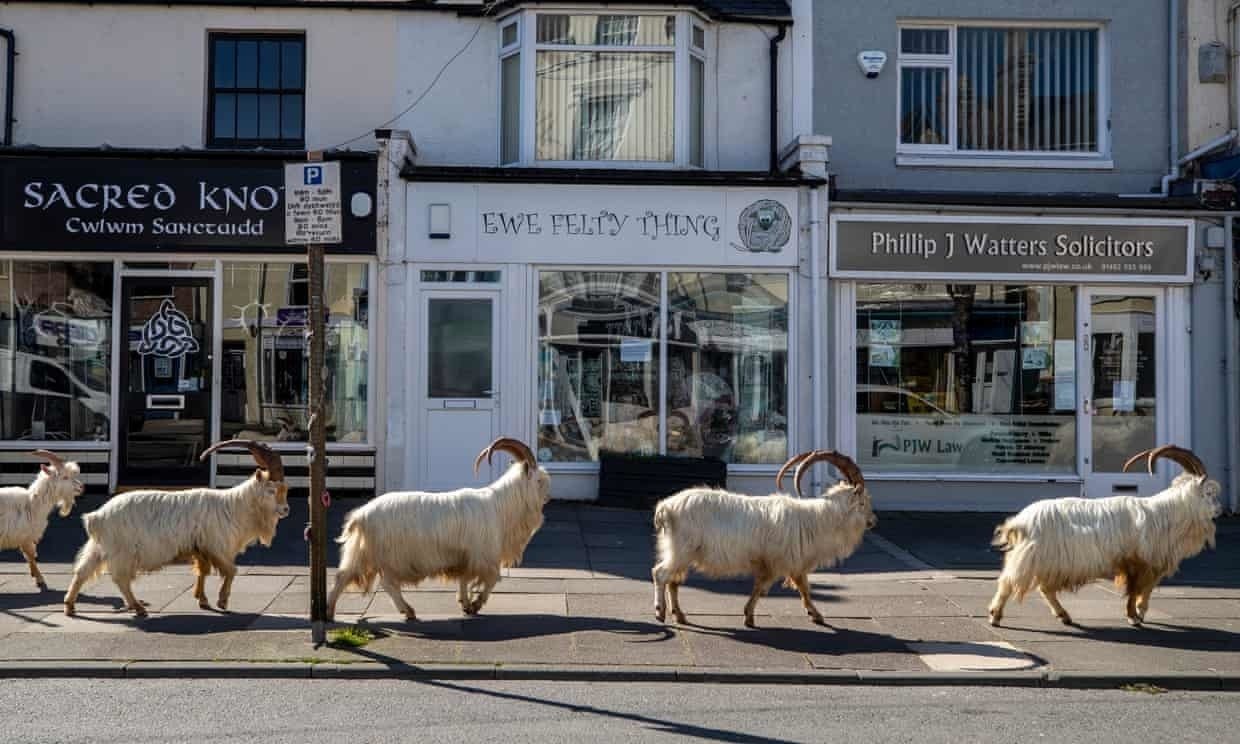 I was late writing this letter due to having spent time completing the marking and levelling of your writing. Did I find magic in your writing? Well, the answer is a resounding 'yes', and it came in many forms and for a variety of reasons. Can you recognise your writing inspired by Emily Gravett's: Little Mouse's Big Book of Fears in the extracts below? I've included an extract (or extracts) from all those who completed the composition ~ I've altered only incorrect spellings.
'. . . I heard a noise I slowly stopped and looked behind me . . .'
'On my quest to get my cheese on the water fountain . . .'
'Outside, in the dark I was looking for some food.'
'. . . I was sent on a mission for the most delicious cheese . . .'
'Meanwhile, when I was eating I heard something.'
'I was a daring mouse I climbed on the cold window of the farmhouse I had spotted a huge hunk of cheese.'
'. . . I pricked my ears up then it stopped.'
'With hungry eyes, the terrifying owl swooped . . .'
'I ran side to side, and then back through my one of a kind mouse flap.'
'. . . it was a giant polar bear with flaming red eyes.'
'In the dead of night, I woke up . . .'
'As I watched the sun rise, I was thinking about my plan to NOT die!'
'In the dead of night, I woke up from a mysterious noise so I crawled out of bed . . .'
'After that, I took a deep breath and started to move. I took one step two, three, four my heart was pounding.'
'At night, the grandfather clock chimed twelve and I ran out of my hiding place feeling terrified.'
'Now I was as scared as could be my throat was dry, my heart beat fast and my spine tingled.'
'I started to pick up the pace because I wanted to get this done with since it was the battle between a colossal cat and an imperceptible mouse.'
'A long time ago when I was very young, a frightful thing happened in the dead of night.'
'One very hot noon, I spotted the pumas. They were trying to exterminate my pack.'
'I went under next doors fence and looked in the bushes, under the trees, in the drive and in the grass but there was nothing.'
'Suddenly, I heard a sound, I listened twisting my head this way and that.'
'I turned around cautiously to see what it was but I saw nothing.'
'. . . I saw a cat but not just any regular cat I saw a hunting cat.'
'Rustling in the grass, I heard footsteps.'
'I tried to hide in the murky, brown water, but he still saw me and he tried to kill me.'
'Last week, when it was pitch black, I settled for the night on a jagged piece of ice.'
'On Thursday morning, I braved the deadly species of the cat.' ~ 'All of a sudden, the wind stopped blowing and there was an eerie silence. I stopped in my tiny tracks.' ~ 'I stood there cowering with my stomach doing cartwheels.'
'My many thoughts went to cake and cheese but I also thought of the fridge's guardian, the cat!' ~ 'Once again, my angel and my demon appeared in my head each with a different thought and opinion. I bit my lip as I listened to either one of them.' ~ 'It was as if I was in dead mouse's corner, the cat was trying to knock me out cold to torment me.' ~ 'The cat was a whole lot better at melee combat so there was no particular point in fighting him.'
I hope I leave you all well and that the same can be said for your mums and dads, your older brothers and sisters, your younger brothers and sisters and sisters of the same age. Throughout this forthcoming week, wherever you find yourself, whatever you find yourself doing, and with whoever you find yourself doing it with, discover and impart your own bit of magic, however small, however large.
Stay Safe ~ Take Care ~ Be Kind
With love and best wishes,
Miss Walley xxx
P.S. ~ Know that I am missing all of you, all of the things we would be doing, and all the things we would have done, so, please e-mail with all the wonderful things you've been doing and are doing at home, as it's wonderful to see and hear.
Finally for this week, I've included a little bit of magic from Saturday's: Britain's Got Talent, so much so, Simon Cowell actually pressed the Golden Buzzer.
Sunday 19th April 2020
Dear Miss Atkins and Year 4,
The first week of Easter and the last week of the holiday has come and gone, and I hope you enjoyed the warmth of the spring sunshine; happy chocolate satisfaction in your tummies; relaxation with your family; and a deepening sense and understanding of what the resurrection of Jesus Christ means to you. It must have felt very strange this year not attending church, and sharing in the joy of Easter with your extended church family, however, I'm sure you were all in their thoughts and prayers, as you were in mine, and as you continue to be.
I've now completed the webpages ~ twelve in total ~ and I have to say, it's been a 'labour of love'. As I said in the previous letter, there's lots of somethings from the past ~ lots of somethings for the present, and many more somethings to keep you busy in the future. The many pages were created as a consequence of not being able to fit everything on one page, neither logically, or in terms of quantity ~ I certainly never set out to create twelve, neither did I imagine it would take so long. I like to think of the class section as a book, with each page being a chapter within that book. The various 'chapters' will be continually updated, as further resources and materials become available.
Like Worzel Gummidge, I have many heads I can't seem to put aside: my love for English 'head', my English Lead 'head' and my teacher 'head', so, where possible, I've linked sections to extracts from reading ~ Roald Dahl ~ to reflect how reading influences writing, and how reading is at the heart of all subjects. Please, please keep up with your reading :) Additionally, I've tried/endeavoured to model different styles of writing, including: formal, informal and creative with many of the features of non-fiction, such as: titles, subheadings and bullet points. Included in the writing are many examples of punctuation chosen for effect and purpose: CAPITAL LETTERS . ? ! . . . , ; : ' " " ( ) - ~
Purposefully, I've written particular things in a particular way, in order to model certain things: items in a list, expanded noun phrases, descriptive phrases, fronted adverbials, subordinating clauses, different types of sentence structures, dialogue, reporting clauses, interrupting reporting clauses etc. etc. etc. Vocabulary has been considered carefully, along with the use of poetic devices: rhythm, rhyme, repetition, alliteration, simile, metaphor, imagery and onomatopoeia.
Now, I wouldn't be upset, or offended if you found the last three paragraphs to be boring, boring, boring. However, your writing needs to include particular things for it to be where you need it to be, especially if you want to be writing above expected. As I say in class, there is always a method and purpose within the 'madness', so if you're going to be reading the pages I've created, I'd like to provide as many opportunities as possible for you to be able to absorb the patterns, rhythms, language and structures etc. needed within your own writing ~ this is what readers do without realising, and it's why reading is so important for improving writing. Babies do the same with spoken language long before they actually talk.
Aside from all the 'boring' but essential bits above, I hope you find the Year 4 'book' child friendly, appealing and full of the kinds of things you want to be doing. There are lots of options to choose from to suit your preferred way of working at home, whether that's in a workbook, on printed out sheets, or working online. There is work to suit those of you who'd like support, work to suit those of you wanting a challenge and work to suit the 'inbetweenies'. Choose what best suits you, and complete what you're able to. If there's anything else I can provide or help you with, please let me know.
Thank your mums and dads for all that they're doing at this time ~ they have a difficult job juggling many different things: their own work (whether outside as a key worker, or inside working from home), home-schooling you (and any brothers and/or sisters) and completing the everyday tasks involved with being a parent and organising a home (shopping, cooking, cleaning, laundry etc.). I'm sure you're all helping the best you can by making your bed, setting the table, completing your work and being on your best behaviour. Let me know what you're doing to help.
A big thank you to all of you, as well, for doing your 'bit' in these strange and extraordinary times. Being active through play, exercise, household chores, gardening activities etc. and being focused on your reading and work will help you enormously.
Last, but certainly not least, I hope you're all well and your families too. Stay safe, take care and be as wonderful as I know you to be. I'm missing you lots and lots more besides.
With love and best wishes,
Miss Walley xxx
***********************************************************************
Sunday 12th April 2020
Dear Miss Atkins and Year 4,
I hope each and everyone of you are well, fine and dandy, and that you've been busy: busy reading ~ busy working ~ busy growing ~ busy exploring a whole new way of living and learning ~ busy smiling, but most importantly, busy having fun being at home with the 'bestest' people in your life ~ your family :)
I'm sure today is a really great day for being busy: busy trying to find where the Easter Bunny went ~ busy trying to find where the Easter Bunny hid your eggs ~ busy unwrapping chocolate ~ busy gathering chocolate crumbs before they melt into a splodgy brown mess ~ busy hiding the fact that you sneaked a tempting bite of chocolate before you were meant to. However you decide to be busy today, be busy knowing that you are loved: loved by your family ~ loved by your friends ~ loved by your Year 4 family ~ loved by the OLSW family and loved by God :)
By now you should be bursting with news to share with all of us, so please sign in to our GuestBook and reveal all. I have been meaning to share my news with all of you, but, then I simply get carried away and tired (from too much sitting) trying to improve the Year 4 pages on the school website ~ brain freeze really does begin to set in and then I make mistakes, many mistakes. I really hope you like what I've created: something from the past ~ something for the present ~ lots of somethings for the future.
As well as missing each and everyone of you, I'm missing terribly the littlest people in my life: Freya and Caleb. The daisy cups (Freya's word for daisies after learning about buttercups) and baby cups (baby daisies) popping up through the ground seeking the sun's warm embrace remind me so much of Freya, and simply add to my sense of deep longing for my daughter and grandchildren ~ I'm sure many of you are feeling the same way about your grandparents and friends :(
Freya has now celebrated her fourth birthday and has abandoned Peppa Pig, muddy puddles and Fireman Sam for Elsa and Anna ~ Caleb has grown a mass of auburn curls and will soon have hair as plentiful as our Caleb and Seth. Together, they love their adventures climbing 'mountains' to find the Gruffalo, mouse, fox and snake; I ordered them a teepee to share, so that the 'indoors' can bring many more adventures. What adventures have you been up to?
Just like you, I too have been busy: busy website working ~ busy shopping on shopping days ~ busy relaxing ~ busy planning some creative projects and busy reading. Since we last met, I've read two fiction books almost totalling a thousand pages, and I've begun reading a third. With the first book written by a Danish author, I was transported to different locations in Denmark: Copenhagen, Amager, Christianshavn, Osterbro, Norrebro, Nordhavnen, Tivoli, plus many, many more. Where've you been transported to?
The third book has an archaeologist as the main character (or protagonist ~ what a great word!), and last night I met with: the Iron Age, Celts, hill forts, Druids, Beltane and Romans. This reminded me of our history lessons, and your laughter and chatter creeping in through the windows as Celts battled Romans.
The second book is where my tale of terror begins: lying in bed late at night, heart beating and pulse already racing due to reading where the tension was building, I noticed a silhouette on the wall ~ a silhouette not normally there. To my growing horror, the silhouette was moving. Not just moving, but fluttering, flickering and flittering. I put my book down and sidled out of bed hoping not to disturb the thing that was the silhouette. I stood. There IT was. Not just was, but dangling menacingly ~ horrific, yet beautiful ~ a silken ribbon glistening in the soft light, as spinnerets spun frantically. Suddenly, it dropped and scrambled for refuge in the bed sheets. I stood there deliberating what to do next . . .
As you know, I don't believe in killing spiders and insects ~ all creatures are God's creatures and every life is sacrosanct (another great word!), so the tale of terror ends with the spider escaping the drawn back bed sheets to a refuge within the dark depths under the bed ~ a place where adult humans fear to tread.
That night, I slept restlessly haunted by the knowledge that the spider could re-emerge any time . . . it was after all fast approaching the witching hour.
Later today, I'm looking forward to (more than chocolate) leg of lamb with rosemary and garlic, roast potatoes (forgot the parsnips) and new baby potatoes, Chantenay carrots, asparagus and fine beans (although I actually would have preferred sprouts ~ I've since discovered certain veg has become the new 'toilet rolls' when shopping), plus lamb gravy and mint jelly, followed by a luxury strawberry trifle to celebrate Easter. For breakfast, I enjoyed a sweet orange marmalade hot cross bun spread with 'best' butter, and I have to say, it was rather delicious ~ well done M&S :) Let me know how you'll be celebrating.
Your continuing patience is very much appreciated, as I work to complete the webpages ~ just to let you know, I will be adding a brand new page: Fun Stuff :)
To finish, I just wanted to say how much I enjoyed last night's: Britain's Got Talent. If you've not yet seen it, I recommend you do: lots to laugh at ~ lots to cry at (in a good way) and lots to be impressed by.
Stay Safe and Take Care
With love and best wishes,
Miss Walley xxx
Comments (4)
Show Comments
Miss Timmis
(less than a month ago)
Oliver, Thank you so much for the lovely goody bag. I was ready for a bar of chocolate when I got home! It was a very thoughtful gesture. Miss Timmis x
Miss Walley
(a couple of months ago)
*H*A*P*P*Y* *E*A*S*T*E*R* Chloe ~ Princess ~ Ava ~ Alex ~ Sophia ~ Lexie ~ Lottie ~ Georgia ~ Seth ~ Muhammad ~ Sam ~ Oliver ~ Mycah ~ Isabella ~ Alexa ~ Edie ~ Caleb ~ Vinnie ~ Noel ~ James ~ Laurence ~ Lucas ~ Luke ~ Roisin ~ Omari ~ Georgina ~ Julia ~ Harry ~ Elliott ~ Ben. I hope you all have a fantabulous day filled with the kiss of sunshine and its warm embrace, the joy and happiness of family, the hope that is Easter and spring, the gentle fall of spring blossom, the fluttering of new life in the beating of butterfly wings and a tummy full of chocolate and sweet filled contentment xxx
Miss Walley
(a couple of months ago)
Good afternoon Oliver ~ I'm fine, thank you for asking. The Twits is a really, really funny book ~ I'm glad you enjoyed reading it, including the quiz. I can't believe it had 'stuff' in it, perhaps I need to add 'stuff' to the list above of things I am missing about you and the rest of Year 4. It's great that you're enjoying all this lovely sunshine in the garden, and your mum is doing a great job in ensuring you work hard doing lots of 'stuff'. Look after your mum and your gorgeous little sister, Bethan. Keep working hard ~ I miss you and yes, let's hope we get back to being in school soon :) xx
Oliver
(a couple of months ago)
Dear miss Walley, how are you? hope you are well. I took a test on The Twits it was so funny, it even had stuff in it! We have been playing in the garden a lot and mummy has been making us do lots of stuff!! Happy Birthday to Miss Atkins. I hope we will get to see you soon. Oliver x